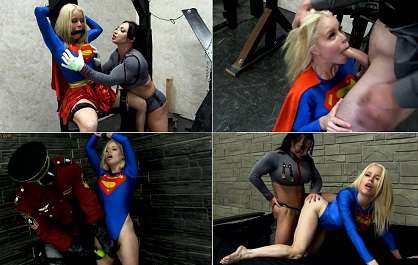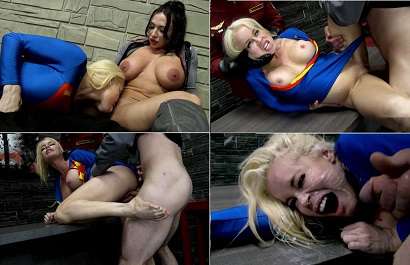 Supergirl was tipped off to the location of General Thorn's compound and fights her way through to the man himself. His guard fires a barrage of bullets at the superheroine, but they bounce off of her like ping-pong balls. Just as she's about to nab the villain, a firm gloved hand grabs her wrist. The General leaves Supergirl to fight the only woman who may just rival her strength: Major Malice. Not only has Major Malice been enhanced by the greatest scientists the organization could harness, those scientists have created a pair of special kryptonite-enriched gloves. Too many meddling Kryptonians not to have plenty of equipment on hand. It's just enough to beat and bear-hug Supergirl into submission.
Supergirl comes to strapped to a strange chair. Major Malice has gagged her and strategically placed a powerful kryptonite-plated vibrator. For this part of the interrogation, the villainess tells her, she doesn't get to talk. She can only moan, squirm, and scream.
One of General Thorn's personal guards, Private Powers, arrives to transport Supergirl to the next interrogation room. But he's not at all happy that she embarrassed him in front of his boss by effortlessly deflecting every shot. He tells her he's going to teach her a lesson and rams his cock in her mouth. Supergirl tries to resist, but she is too weak from the first round of the interrogation. After he fills her mouth, he drags her off to be hung up.
Now Supergirl hangs from her wrists when General Thorn approaches. He brings in the kryptonite-played vibrator she has already become so familiar with. But even after amping up the strength multiple times, Supergirl still won't reveal the source of her tip-off. He leaves her hanging and begging.
Major Malice enters with a kryptonite cock strapped on, and Supergirl gawks in horror. Major Malice jams it in Supergirl's mouth and tells her that all of the kryptonite equipment, the strap-on included, has more than enough kryptonite to severely weaken the heroine, but they're all diluted just enough not to end her life. After violating Supergirl's face with the diabolical device, Major Malice mercilessly fucks the weakened superheroine until she begs for an alternative. In exchange for no longer being relentlessly rammed with her greatest weakness, Supergirl is forced to eat the villainess's pussy until satisfied. Then major Malice, sitting atop her face, smothers her out.
Supergirl has been interrogated for days and is yet to break. But her spirit and strength is paper-thin. General Thorn calmly grills her for information as his personal guard viciously fucks her, wrapping his hand around her throat or holding her down when he wants to amp things up. Eventually, Supergirl just cannot take anymore interrogation. She gives up the name of her source, and the General rewards her by telling his soldier to decorate her face. Broken and hopeless, she now has all of the other soldiers to look forward to.
If you like this video, you may also enjoy:
Power Gurl – Weakened, Defeated, Mesmerized
Format: mp4
Resolution: 1280 x 720
Duration: 01:29:50
Size: 2.27 Gb