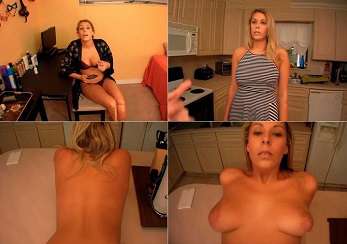 This clip includes: Nikki Brooks, Aiden Valentine, mom/son, family, son sees mom flirting with a stranger on the phone, realizes she is about to see another guy, mom explains that her marriage with dad is falling apart, tells son that he will be living with his dad, son gets upset, brainwashes mom, device spews out words to rewire her brain, eye fluttering/rolling, mindless, obedient, blank stare, unblinking, monotone voice, obedient slave, Master/slave, commands/orders, slow movements, sensual and sexy dancing, stripping, playing with tits, virtual blowjob, virtual sex, doggystyle, missionary, moaning, cum on body, trance, mind control, special fx, sound effects
"You need a father figure. You're a growing boy, and you're going to become a man, and there are certain things that I can't show you, that I won't know how to talk to you about," Mom explained. "And not to mention that your dad is going to fight me like hell in court, and I don't want you to go through that." So, that was it then? I felt that horrible, sinking feeling in my stomach. It was decided, and I was just stuck doing whatever they wanted me to do.
I begged her not to make me go with Dad, and although she was sincere, there was nothing she could do. "It's out of my control, you know how your father is," she said in defeat. In order for the separation to go smoothly, she had to agree to give custody to him; it's almost as if she hadn't tried at all.
"It's time for me to move on," she said. "I never see your father. He works 70 hours a week. And you know he's fucking his mistress. Secretary whatever, that twinkie 22 year old blond."
Format: mp4
Resolution: 1280 x 720
Duratio: 00:18:48
Size: 210 Mb