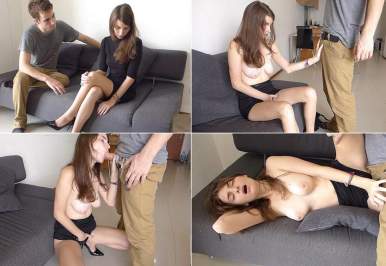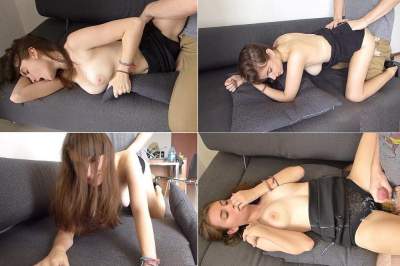 Kayla's husband's business partner tells Kayla he has some bad news. Her husband's business is doing poorly and he'll have to withdraw his funding…unless they can come to some sort of agreement. She is appalled by his lewd suggestion, and pushes his hand away each time he reaches for her leg. She is not that kind of woman. He tells Kayla that he fantasizes about watching her masturbate. She is disgusted. If she lets him watch, he won't withdraw his funding from her husband's soon to be bankrupt business….she reluctantly agrees.
She slowly starts to rub her breasts…he tells her to remove her top and place her hand in her bra. He gives her a drink that drugz her, and lets her relax. After playing with her bare tits she slowly slides her hand up her skirt..almost as if teasing him, but with a vacant expression. She rubs herself through her panties…he places her hand on the bulge in his trousers.
When his cock is exposed, she looks surprised. He asked if the rumors he's heard are true..about her husband being a poor lover. To her embarrassment, she admits her husband has a very tiny penis and cums too soon.
Format: mp4
Resolution: 1920 x 1080
Duration: 00:18:48
Size: 482 Mb