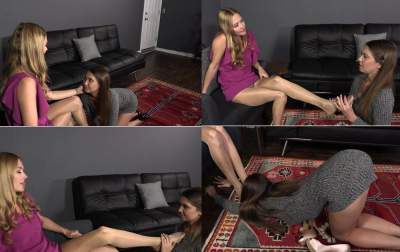 Chrissy returns to her Mistress under the guise of gratitude for how her life has changed. She details how beautiful it is to appreciate the little things, to eat simple food, to let go of material desires for that which she can no longer afford with the massive tributes she owes Star.
Star accepts her gratitude & allows her to kneel and crawl to her feet.
Chrissy begs to be allowed to express her gratitude further with a foot massage – she has been studying and meditating and practicing and she thinks she has discovered the trick to mesmerizing touch.
Star sighs in pleasure and Chrissy takes it as a sign that her touch is working. She begins to speak in a mesmerizing tone of voice, detailing how Star will release her and her husband from slavery & pay them for their suffering.
Star rolls her eyes. Of course it's not going to work on her, but she decides to toy with Chrissy for a moment, repeating after her before throwing her off guard, grabbing her by the chin.
Star gazes into her eyes, and with her touch & voice, teaches Chrissy that she already has freed her and her husband from the chains of middle class life, from the ill mindset focused on material wealth. Freed them from the selfish thoughts, from their egos. They should be grateful for the responsibility that has been removed from them . . .
Chrissy kneels and kisses Star's feet. In deeper than ever before.
Format: mp4
Resolution: 1920 x 1080
Duration: 00:09:10
Size: 667 Mb