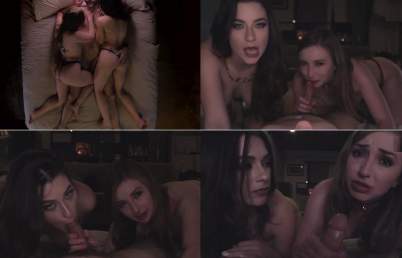 "Thank you so much for coming over," Jayde said as she lit one of the candles Holden had brought for them.
"We were so worried when the power went out" added Gracie as she guided him to their sofa. The power had only been out for about ten minutes when Holden heard the knock on his door where his gorgeous new neighbors awaited him in need.
"Please stay," Jayde pleaded as she spread out on the sectional next to him, her tight little ass wiggling in the air behind her, "Just until the power comes back on?" Holden's heart pounded in his chest, he knew he should go, his wife wouldn't think this was terribly appropriate… but he was enjoying the attention. Something about the way they treated him, it just made him feel…powerful.
"So do you like living here?" Jayde asked
"What about your wife?" Gracie interjected before he could even respond to the first question.
"The building is really old, did they tell you about it when you moved in?" Jayde chimed in as if they were sharing one mind.
Categories: ayde symz, gracie may green, double blowjob, succubus, submissive dirty talk, seduction, cheating husband, whispering, begging, licking, eye contact, pov, seductive dirty talk, stripping, kissing
Format: mp4
Resolution: 1920 x 1080
Duration: 00:24:54
Size: 450 Mb