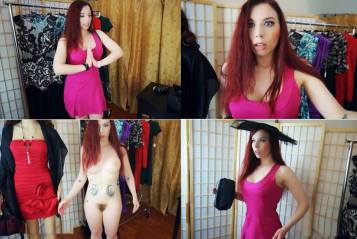 Ludella shows up for a nighttime job interview, which might seem unusual for some people, but she's not so bright, so she comes to the "closed" boutique for her appointment with the manager for a job listed on craigslist. She has very little work experience, but she figures her friend Bernadette who works there can show her the ropes. That's when she notices the shop mannequin.
"OMG! I know this is going to sound so weird, but that mannequin looks exactly like my friend who works here. That's so crazy! Did you get the mannequin before or after she started working? Oh yeah, anyway…" She continues babbling on about her experience and enthusiasm to work but she just can't get over the mannequin's likeness to her friend, and then she realizes she hasn't talked to her in 3 days and they are BFFS. She gets concerned and decides she needs to end the interview so she can drop by and check on her.
But on her way out…the manager waves his hand in front of her eyes, putting her into a slow-freezing spell. "I feel…odd…" She stumbles backwards, dropping her purse. Her eyes roll around a bit, but then the manager takes her arm and poses it…AND IT STAYS! Just as he posed it! Her eyes grow wide. "What's happening to me…?" Her speech has slowed down as he continues to pose her…like a mannequin…and then she finally puts it together. "That IS Bernadette…You turned her into…a…mannequin…" She manages to get out just as she stiffens completely with a blank stare.
The manager poses her limbs to test his new mannequin, putting her up on one leg, and groping her big tits. Then strips her out of her clothes, continuing to put her into poses up on her toes, pulling down her panties to reveal her bush. He even takes her watch and jewelry. She's completely naked for him. He looks her over with long pans, plays with her BIG TITS and groping her ass. He puts her onto the floor into a doggy style and walks around her. Her face stays blank.
Satisfied, he lifts her up and bends her over the register with her butt sticking out, moving the hair out of her face. He walks around her frozen form before coming up behind her, pulling her huge ass toward him to have his way with her.
The scene opens on the next day, with his new Ludella mannequin in the place of his previous one. She's dressed again ready to greet his customers, but he still needs a new shop girl to run his register…
Format: avi
Resolution: 1280 x 720
Duration: 00:18:28
Size: 734 Mb