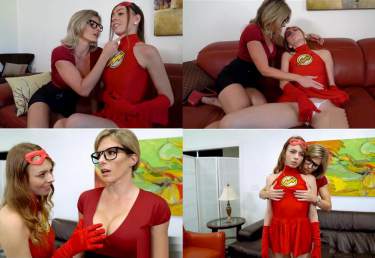 Scene One: Origins
"You're coming with me Brain Drain!" The flash says. She's the fastest woman alive and nothing will slow her down. Even her brain is faster than normal humans. "Your tricks won't work on me!" She says. But something compels her to sit on the couch.
Softly Brain Drain's words enter her mind. "Aren't you feeling so relaxed?" Brain Drain asks. Flash jumps up and tries to run away but can't. Her thoughts are stuck in mud and she's so confused as Brain Drain gropes her body. What's happening? She has to get away. But she can't escape Brain Drain's kisses and hands.
She wants to fight but instead she spreads her legs and touches her pussy through her cute white panties. She's completely lost, unable to think and broken by her body's lust. Brain Drain brings her new toy to her bedroom, the last the world will see of the flash….
Scene Two: Redux
Brain Drain was able to capture and drain the flash but before it was complete Flash was able to break through and escape. Now Brain Drain must hatch a plan to capture the defiant little speedster once and for all! She will create a ring and secretly give it to the flash. Flash will think it can Defeat Brain Drain, control her and when the Flash's guard is down… she's got her.
Categories: mind control ,female training ,milf ,big tits ,mind fucked ,blonde, flash les
Format: mp4
Resolution: 1920 x 1080
Duratio: 00:28:53
Size: 524 Mb