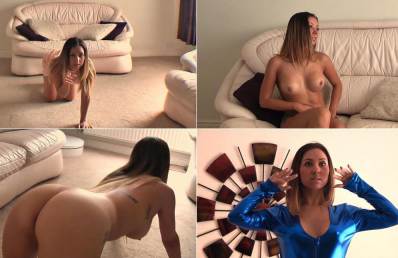 Lucinda's housemate uses the iDroid Mental Manipulation App to take over her mind and make her into his fembot, living doll, maid, erotic ornament and slavegirl!
Lucinda's the kind of girl who has difficulty tearing her eyes away from her phone for more than 5 seconds. When her housemate asks her out to the pub, she's quick to turn him down. Her reaction was nothing if not expected, so he decides to activate the "iDroid Master Control" program that he'd secretly installed on her phone. The software kicks in and overrides first Lucinda's phone and then her body. She reacts with confusion at the glowing spirals filling her screen, but by then it's already too late and she really *can't* look away from her screen.
The software begins by taking physical control of Lucinda's body. It suspends her mental functions and compels her to stand in a number of submissive and ornamental poses. It then installs physical and auditory "Off" switches, allowing other users to deactivate Lucinda with a snap of their fingers or a poke of her forehead. The triggers are tested and Lucinda reacts with confusion to find herself standing up and missing memories, it doesn't last long though as the program takes control of her right hand and places her back in a programming state.
The program then installs a further couple of insidious modifications, first hiding any memory of strange behaviour from Lucinda, then making her a nudist!
Her housemate enjoys posing her like a doll, and switching her between embarrassment at her nakedness and maid-like submission.
Lucinda spends time nude, posing, dancing, and cleaning in "French Maid Mode", and she models a shiny couple of fembot numbers. (Leotard and Jumpsuit.)
Finally she deactivates herself and stands patiently on her display disc awaiting the next time someone wants to play with her.
Format: mp4
Resolution: 1280 x 720
Duratio: 00:54:29
Size: 559 Mb