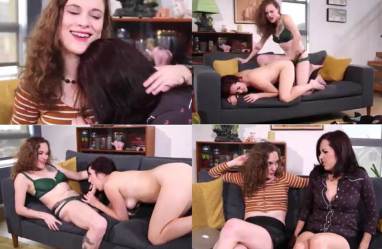 Lauren's hot neighbor Dixie has come over to her house to cry on her shoulder because her loser husband has left her. Lauren tries to console her through her sobs but secretly she is thinking, "why does this stupid girl keep hooking up with all these loser men when I've been right here for her all along?!" But this time she has a plan to change things. She pulls out her laptop and tells Dixie that they should watch some cute kitten videos and that will make her feel better. Dixie agrees, but instead of cat videos, Lauren plays a mesmerizing app that she has downloaded and uses it to put Dixie in a sleepy trance.
Once under her spell, Lauren tests out her new control over Dixie by making her kiss her. She snaps her fingers to wake Dixie up and immediately she grabs Lauren by the face and starts deeply making out with her. Satisfied that Dixie is under her control she moves on to her main plan. She pulls on her strap-on cock and tells Dixie that when she wakes up she will believe that Lauren is her long lost loser husband and that it will be Dixie's chance to fuck him so well he comes back to her. She snaps her fingers and Dixie is so happy to see her. She gives her so much love and affection, everything that Lauren has always craved from her. She strips out of her clothes and immediately starts sucking Lauren's dick. She blows her dildo like her life depends on it, giving her the blow job of her dreams. She then bends over and presents her ass and pussy to Lauren and begs her to fuck her from behind. Lauren slides her cock into Dixie's wet and waiting pussy and fucks her so hard she has a huge orgasm and then Lauren snaps her fingers and puts her back to sleep.
When Dixie wakes back up she is dressed and sitting right where she was, on the couch with Lauren watching cute kitten videos. She's confused though, she doesn't remember falling asleep or anything else that happened and she doesn't know why her panties are missing and her pussy is wet and she smells like sex. Lauren reassures her that she just had a little nap and they decide that they should go out and get a drink to help her forget about her loser husband.
Format: mp4
Resolution: 852 x 480
Duratio: 00:16:37
Size: 279 Mb