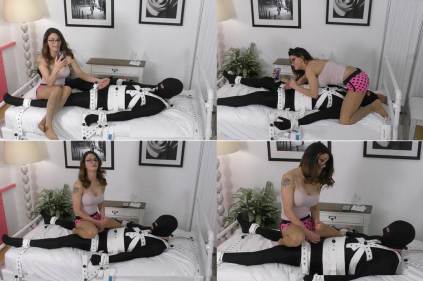 Time stopped – Rebecca is frozen and unfrozen repeatedly with a remote. She is left with no memory of what happened while frozen.
Repositioned, clothes altered, and fondled while frozen
Facial manipulation while frozen.
Made mindless and obedient at various times using the remote
Made to sleepwalk through the room while chanting a mantra. Frozen during.
Answers "yes master" when given commands.
Speaks in a monotone.
Made to remove her top.
Sleepwalks in circles topless while repeating her mantra.
Sits on the couch and chants her mantra while she is posed.
Removes all clothes except for her stockings and heels.
Each time Rebecca is unfrozen, she is increasingly more panicked and scared.
Given a new personality through the remote. Made to be happy to spend time with him.
Topless and bottomless nudity.
Format: mp4
Resolution: 1920 x 1080
Duratio: 00:15:51
Size: 693 Mb