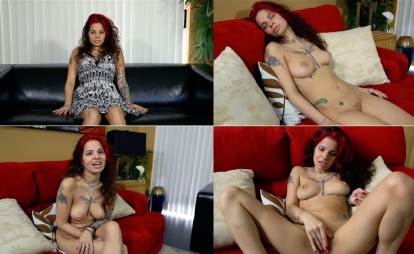 Exotic Ginary has returned for additional training.
Ginary looks so good in her black trainee bikini and foot jewelry.
Ginary's soleful style is sure to appeal to our many foot fans.
Ginary has found her training "pleasurable" and is "down for more."
Head Trainer Mark uses a flashing light to place Ginary back into a trance.
Mark preps Ginary to accept suggestions from Pete.
Ginary gazes at the crystal as she swings in before her eyes.
Ginary feels her hands are being controlled by the viewer of this video.
Ginary removes her bikini and pleasures herself with her hands,
This leads to Ginary's initial orgasm of the session.
Pete cannot resist tickling when Ginary drapes her legs over the arms of the chair.
Pete takes Ginary deeper by bringing back the flashing light.
The light itself produces pleasure wherever it is directed on Ginary's naked body.
Pete causes Ginary to feel more tickling combined with invisible bondage.
Pete adds pleasure to the mix to see if it will win out over the tickle sensations.
Pete shows Ginary a very unusual way to produce feelings of oral sex.
Pete uses the crystal to again entrance Ginary as her session draws to a close.
Ginary "replays" the best orgasm of the session when Pete kisses her hand.
Format: mp4
Resolution: 1920 x 1080
Duratio: 01:40:02
Size: 1925 Mb