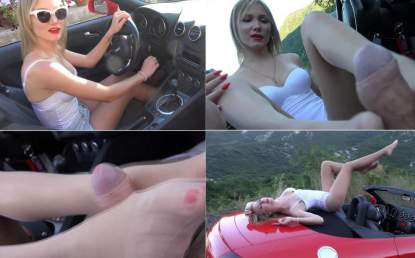 I saw your clip in YouTube which you did on a yellow sports car Chevrolet Camaro. I decided, it is important for me to know, can you make a specific clip for me. Any other sports car or the same Chevrolet will work for my clip, I am ready to pay for it, red fingernails and toenails and red lips. My clip will be footjob fetish, nylon pantyhose tan color, your hair straight. You can wear any sexy clothes, top and heels or dress and heels, make-up as you wish. At the beginning of the clip (5 minutes) – I will ask you to make a creative start, as you did in your YouTube clip. The rest of the time (10 minutes) – you tease and make a footjob for me (your hubby). I hope we will collaborate together, I have many other ideas for my clips. I will be glad to hear from you.
The Famous and Gorgeous model Alice to drive her sports car Audi TT cabriolet. Waking up in the morning, she put on nylon tan tights, white bodysuit and black high heels. She drive at high speed, today she has an important meeting.
I (your hubby) walk on the edge of the road, my car is stuck. Me urgently need to get to the city center to meet to sign an important contract. I already have lost any hope that someone will help me.
Alice enjoys the ride, she loves her powerful red baby car. She drives past me and stops. Model Alice decided to help me to get to my place. She notices that I watch her, my look obviously stops on her nylon legs. She began to guess my fetish. Alisa stops her car on the side of the road …
Format: avi
Resolution: 1920 x 1016
Duratio: 00:15:05
Size: 1056 Mb