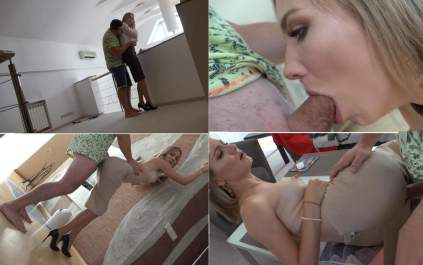 You are preparing for your next busy day in the office. You are dressing up wearing your sexy business outfit /473 Final seduction leather pencil skirt, shirt/ But the last few weeks you don't have any time for your hubby because of your tight working schedule… He want's to have sex with you from long time ago and he can't resist to your sexy look and he comes to you and tries to kiss you and touch you while you are preparing, but you ignore him..he tries again but this time he is making it rude – groping you, trying to undress your shirt, skirt.. but you tell him that you have to go and you don't have time for him now and then you manage to escape from him with /you can be with unbuttoned shirt and unzipped skirt while you try to escape or simillar look – it is up to you how can you do this part better/
The second day:
You are again preparing for work – this time wearing the beige pencil skirt and a top. This time your man will do anything to have sex with you – no matter how
important is your work.Again he comes to you trying to be gentle with you, but again you ignore him – this time he has nothing to loose – he gropes you, your tits, ass…etc. This time you can't escape – he starts to rub his cock on your sexy ass..after that the only thing you can do is to give him a real deepthroat blowjob to make him calm. You kneel and start this awesome blowjob – if possible I want to see you drooling a lot of spit on you and your clothes /similar to the 476 Fuck my face video/
After the blowjob part the camera captures the mess on you and then you stand up and tease like the video 489 – the pose from 06:15 min – /very sexy part/ Meanwhile he starts to rub your sexy ass again with his cock.
I am very curious about the surprise clip that you are going to shoot and I can't wait to see it.
Format: avi
Resolution: 1920 x 1024
Duratio: 00:25:02
Size: 1756 Mb