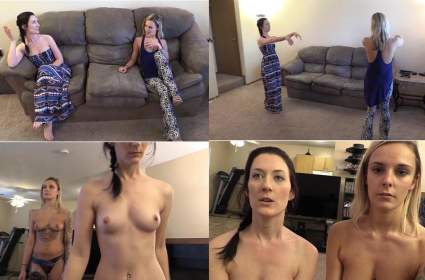 Alisha and Jennifer are two sisters who hate each other. One is liberal in the way she dresses and acts, and the other is very conservative. Their brother has invited them both over to his place without telling them that the other one will be there. He has recently taken a trip to South America where he visited a shaman and received a special amulet that can put people into a hypnotic trance, bending them to his will. He of course plans on using it on his two sisters to force them to show a little more love towards each other, and himself.
Key highlights of video include:
Hypnotized by a pendant.
Both girls fall into a hypnotic sleep.
Repeat back their commands through the induction.
Both girls answer "yes master" when given a command.
Jennifer and Alisha are made to sleepwalk through the room together, while repeating their mantra.
Alisha is woken up to find Jennifer in a trance. She thinks that Jennifer is the only one of them that's been hypnotized.
Alisha pulls Jennifer's top down and takes a selfie with her, threatening to post it online.
Alisha's brother tells her to rub Jennifer's tits, but she refuses. Alisha is put back into trance using the pendant and made to rub her sister's bare chest.
Alisha is made to remove her top and stand next to her sister, both girls in a trance.
Both girls have their tits groped by their brother as they repeat the phrases they are given.
Alisha must strip to her underwear as they turn towards each other, then rub each others breasts.
Jennifer removes her panties and dances on her brother's lap as Alisha stand to the side in a trance.
Alisha is made to dance for her brother while Jennifer stands back in a trance.
Both girls are snapped out of trance and begin fighting because they are naked.
Snapped back into trance and made to give their brother a handjob. (Simulated – no real sex, no male nudity)
The sisters are then left in a hypnotic sleep on the floor.
Alisha – topless, nude down to panties.
Jennifer – full nude.
Format: mp4
Resolution: 1920 x 1080
Duratio: 00:21:12
Size: 807 Mb