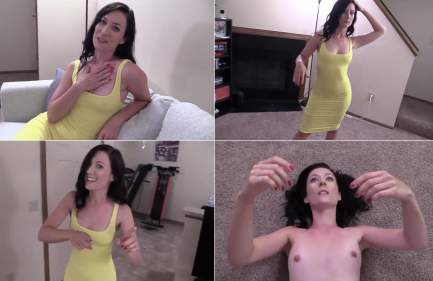 Jennifer is meeting a guy for the first time. They had an amazing date, great food, and he seems like a really nice guy. But when they get back to his place, Jennifer realizes that time seems to be slipping by with no explanation. She finds herself in different poses one second to the next. It then becomes apparent that her date is using a remote control on her, that makes her stop what she's doing and freeze in a pose of his choosing. While Jennifer is frozen in her pose, she has no awareness, and can be manipulated and repositioned in any way he sees fit.
Jennifer is instantly put into statue mode 5 separate times during conversation. When the remote is pressed, Jennifer stops talking and immediately puts herself in a pose until the remote is pressed again. Different camera angles and close-ups.
Jennifer has no memory of what has happened while she was frozen in her pose.
Jennifer's body is repositioned and felt up while posing.
On Jennifer's final pose, she strips nude and lays on her back on the floor. Her arms and legs are put into various poses.
Throughout the video, Jennifer becomes increasingly aware that something is happening to her, eventually realizing that her date is taking advantage of her, and she tries to escape.
Virtual simulated scene – camera on top (no real sex, no male nudity).
Full nude.
Format: mp4
Resolution: 1280 x 720
Duratio: 00:14:05
Size: 385 Mb