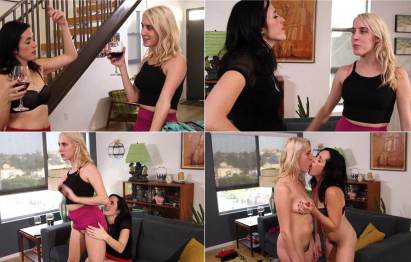 Dixie and Cadence have a girls night planned-Cadence has a new boyfriend who is taking up all her time now. Cadence arrives at Dixies to inform her that she called a cab but its gonna be 45 minutes until it comes to pick them up to go party. Dixie offers her a glass of wine while she goes to finish getting ready. Cadence enjoys a few puffs of a cigarette. Dixie comes back down stairs and sees Cadence smoking and suggests helping her finally knock that nasty habit by trying out a little magic control. Cadence reluctantly agrees since Dixie is always trying to test her skills on her for one thing or another. They go sit on the ocuch and Dixe starts dangling her crystal necklace in front of Cadences face. Before they both know it, Cadence is out and Dixie is estatic it actually worked! Qutting smoking really isnt the reason Dixie wanted to mesmerize Cadence.
Dixie sinks Cadence deeper, shes so entranced that she drools a bit. She gives Cadence some simple instructions and makes her believe that she is her slave. Cadence stands there entraced while Dixie makes out with her then snaps her fingers wakes her up fully. Cadence starts a conversation with Dixie but Dixie tests her control by bringing her in and out of sleep, tance and awake a few times. Finally Dixie commands Cadence call and cancel the cab, she obeys. Dixie is delighted, the night is looking very promising. She moves onto asking Cadence some questions about her attraction towards woman-Dixie isnt thrilled that Cadence isnt into girls but she moves on.
Dixie continues her mind control on Cadence, making her give Dixie a lap dance while snapping her in and out of trance. She makes her take off her top and passionately kiss Dixie-she snaps her awake and Cadnece is so confused why her top is off but before she can get far Dixie snaps her back to sleep. She commands Cadnece strip to her underwear and then has her undress Dixie too. She sits them down on the couch and has Cadence take off her heels and kiss her feet. Cadence starts kissing her feet-Dixie eventually wakes her normal. Cadence gets her cigarettes and starts smoking acting like not one thing happened. They talk how they were going to try the to mesmerize her but it didn't work. Cadence laughs, she knew she'd be too strong willed for that.
Dixie asks about Cadence's new boyfriend. When Dixie doesnt like the answers coming out of her mouth, she manipulates Cadence into thinking and saying what Dixie wants to hear-mostly that she is going to break up with her boyfriend. Dixie also revists her not being into girls and remedies that making her think she is only into women. Dixie then commands that when she kiss Cadence her inner slut will be released and they will make out. After a lovely kissing grope fest, Dixie wakes her up, commanding prior that she will get dressed and she will forget everything.
Cadence wakes and they start to get dressed to go out, no questions asked. Dixie suggests that maybe they just stay in but Cadence insists they go out but that she needs to pee first. Dixie snaps Cadence into trance and instructs her to pee right there in her panties. Dixie laughs as Cadnece fills her panties with piss. She then wakes her back up and Cadence is immediately horribly embarrassed. So embarrassed that she just wants to stay in for the night. Dixie obviously obliges and sends her new lover off to the shower to clean up.
Format: mp4
Resolution: 1920 x 1080
Duration: 00:11:19
Size: 215 Mb