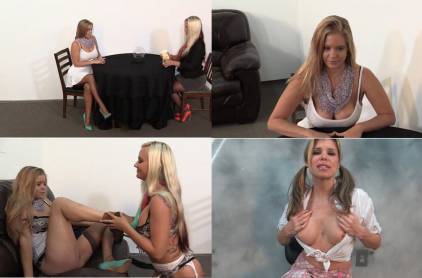 Dawn (Played by Anabelle Pync) is visiting Madame Helga (Played by Angel Lee) and is not sure she believes the whole fortune telling ruse. When Helga mentions that Emily is trying to communicate with her, Dawn perks up!
She warns her that it could become dangerous as she speaks with her medium. Dawn does not care if it actually works. When random items start floating by, she laughs at the corniness of the situation and still thinks it is fake. All of a sudden the lights go out and she feels someone grabbing her, taking off her shirt. When the lights resume, Helga is conked out on the table.
Dawn does not realize that Emily has invaded Helga's body and Emily tries to prove it by talking about their shared experiences. This is so surreal and Dawn does not believe her until she gets specific and mentions their foot worship sessions. They just loved playing with each other's legs while in hosiery.
The lights go out again and Dawn ends up on the floor and terrified. Her nylons falls down one of her legs and she crawls away from this possessed woman. As Emily corners her on thecouch, Dawn timidly whimpers. All she can do is take it as Emily caresses and kisses her legs.
A glimmer of arousal crosses her face as she remembers the good times she had with her former lover, but when she realizes that a ghost is groping her, fear returns.
Category: MAGIC CONTROL
Related Categories: GARTER & STOCKINGS, LEGS, VINTAGE STOCKINGS, DAMSEL IN DISTRESS, FOOT FETISH.
Format: mp4
Resolution: 1280 x 720
Duratio: 00:12:11
Size: 465 Mb