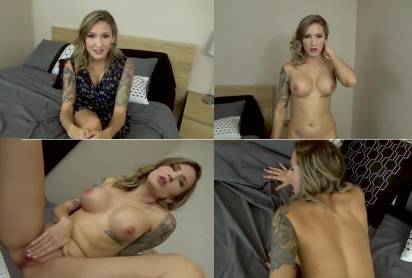 I Must Give Master Everything He Desires –
This clip includes: Reagan Lush, mom/son, POV, son wants to try out a new brainwashing technique he's been studying, a spiral & a brainwashing sound put mom into a trance, mind control, mindless, obedient slave, Master, mom brainwashed, she is obedient, wide & blank eyes, monotone voice, "Yes, Master," woman following orders, woman following commands, "I must do this…" she wants and needs to follow each order given to her, she strips down, striptease, tit groping, tit play, she wants to get him hard, virtual handjob, virtual blowjob, masturbation, mom masturbates, orgasm, virtual sex, fucking, doggystyle, she wants son's cum inside of her, virtual creampie, mom belongs to son, her pussy belongs to him, she wants him & only him, everything she does is for him, finger sucking, magic control, erotic magic, MILF, momma's boy, blondes, older woman, mom fucks son, son brainwashes mom, son fucks mom, mom & son, family sex, fauxcest, big tits, big boobs, taboo, transformation, special effects, sound effects
"I must give Master everything he desires," Mom continued to say. "I must strip for Master, I want to strip off all of my clothes." She stood up and began stripping down slowly and sensually for you. "I do want to expose these breasts, I need to," she said mindlessly. "I have to show my breasts to my Master. Yes, I must touch myself. I must show my Master my entire body. My Master does own me."
"I want to please you, Master. I do love your cock, Master. I must get it hard for you. I must feel Master's cock," she said bending down and wrapping her soft hand around your cock. "I only love Master's cock." She stroked your cock, then placed it into her wet, warm mouth to suck it.
Mom wanted…needed to show you every inch of her body. She got up onto the bed, spread her legs, and masturbated for you. Everything she did was for you and only you. She brought herself to an overwhelming orgasm, then awaited your next command.
"I do want to get on all fours for Master," she repeated. "I do want to feel Master plunge deep inside of me. I must have Master's cum!" You fucked her as she moaned loudly, then filled her with your cum.
"Yes, anything you say, Master. I'm yours and only yours. This pussy belongs to you," she said with wide eyes, a finger pressed between her lips.
Format: mp4
Resolution: 1920 x 1080
Duratio: 00:10:07
Size: 419 Mb