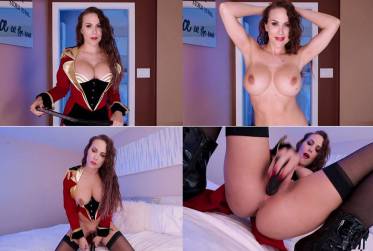 I need your help with something, the big show is tonight and I need to practice my skills. Be my guinea pig and I'll make sure you are properly rewarded. Do everything I say, follow my lead and you'll find yourself in a tantalizing hypnotic state. Do your task as instructed and I'll ride your rod till you fill me full.
Video in 2 parts.
Part 1:
She wants to practice part of her act on you – hpnotising men with her big tits!
She slowly stips while 'hypnotising' you to come to her show tomorrow and be a volunteer
She gives jerk off instructions ending in cum countdown, telling you to cum on her tits.
Part 2:
After the show where you did a good job as a volunteer, Katie wants to reward you.
She sucks a large dildo and masturbates with it while giving you more jerk off encouragment and more hypno talk.
Ends with another cum countdown as she cums at the same time.
CONTAINS THE FOLLOWING:
circus ring-leader roleplay, dirty talk, jerk off instruction, hypnosis-talk, cum countdown, dildo, female masturbation
Format: mp4
Resolution: 1920 x 1080
Duratio: 00:14:01
Size: 736 Mb