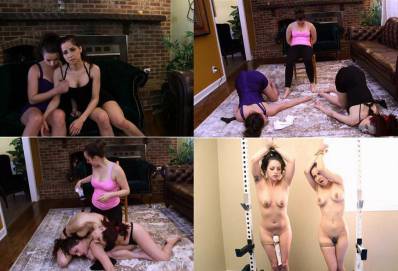 Hannah Perez and Indica Fetish are private detectives. They have been investigating the disappearance of some women, and one of the victim's families has tipped them off that a certain therapist may be involved in the scheme. He is known as The Collector. Under the pretense of a couple seeking therapy, they enter the office of this therapist. They are greeted by Karly Salinas, a seemingly harmless receptionist who begins to ask them some questions. She gives Hannah and Indica a bottle of water and they take sips while answering, failing to realize that the water has been contaminated. Within moments they feel the effects and start divulging more information than they should, admitting they are detectives investigating potential crimes. Karly delights, pointing out that it wasn't very wise of them to sip the water. Hannah and Indica struggle to get up but it's useless. They collapse on each other. Karly drags out Indica, then Hannah.
When they come to, Karly announces that she is going to have fun with them while fulfilling The Collector's wish of training them to become part of his collection. They're going to play a game. It consists of Hannah and Indica getting KO'ed repeatedly in different ways. The girl to stay awake the longest wins the round. At the end of each round, the winner removes an article of clothing from the loser. Ultimately the loser becomes part of the collection while the other goes free.
They engage in a series of knockouts, by sleepy gas, white cloths, tranquilizers, and syringes and keep the score pretty even, but always ending in both women collapsing on the ground in a pile or with their ass up in the air.
Karly Salinas calls a tie, deciding she must break the tie with one final test. Hannah Perez and Indica are both strung up arms overhead with a vibrator attached to them. They are told the first one to cum loses and Karly flips the switches on. It's another tie, with Hannah and Indica cumming simulataneously. Karly happily announces that they will both now become part of the collection. In one last step of the process, all 3 women are bound with their arms overhead, made to become deeply entranced. They slowly succumb to the entrancement, ending in a chorus of mantras "I am deeply mesmerized. I have no will to resist. I must obey."
Format: mp4
Resolution: 1920 x 1080
Duratio: 00:24:49
Size: 1264 Mb