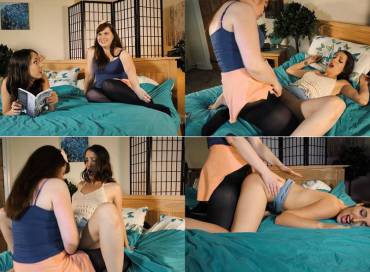 Tammie and Liz are hanging out, reading manga, when Tammie has to confess something to Liz.
"I've been having these strange dreams where I am so horny, but I just cannot ever cum." Liz is shocked. "Really? But they are your dreams. You should be able to satisfy yourself. Maybe you should just touch yourself ore. I touch myself all the time."
As Liz is speaking, Tammie is gripped by pain. Strange noises come from between Tammie's thighs. It is as if something is growing, trying to break free. "Tammie! Are you alright? I'm worried about you. Do you need some medicine?" Tammie lifts her head, beads of sweat drip from her forehead. Her chest is soaked. More spasms. More noises. Then, Tammie sits back and notices something under her skirt. She pulls the skirt to one side and gasps. Tammie has grown a dick. It's small. maybe it will go away of she ignores it. Once again, Tammie is gripped with crippling pain. She doubles over, moans, then sits back up. The dick has grown. It is huge and there is no way to hide it.
Liz notices. She reaches over and touches Tammie's new penis. The sensation is almost too much for Tammie to handle. She is overcome with lust and must have release right now! She wildly grabs at Liz's legs, tossing her onto her back and dragging her towards her. Liz screams, "I don't want to fuck you. No!" But Tammie is having none of it. She spreads Liz's legs and fucks her with her enormous cock
Format: mp4
Resolution: 1920 x 1080
Duratio: 00:17:43
Size: 1285 Mb