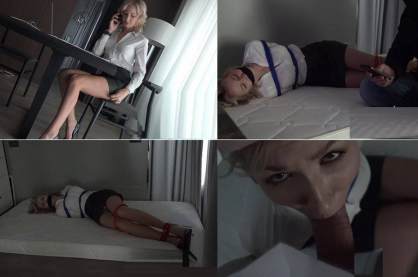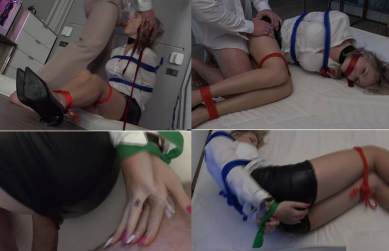 Angel – Has an office job and wears a blouse, short leather skirt, bare legs, white panties, heels. Hair loose. Makeup – your choice. Heels – closed toe.
Bad Man – Wears black clothes and a mask. Has a this business where he take women,
posts them on an App, and delivers them to "buyers" that purchase time with them.
Buyer – Wears a button down shirt and a skinny satin tie. He purchased time with Angel through an App.
The Gag
I love a thin cloth gag tied over the mouth (OTM).
It may need to be pulled up every now and then when it slips down, but I love how it looks.
Fabric – Please use a satin scarf like in video 159.
But if that has trouble with falling off, maybe the Bad Man switches it to a stretchy fabric,
like a women's cotton stocking or a strip of t-shirt fabric!
Scene 1
Angel is working late at the office as we admire her outfit and legs. She gets a call from her boyfriend.
"Sorry, I had to work late today. But I'm just about done.
Don't worry, I'll be careful.
Yes, I'm wearing a skirt. I know what you're going to say: studies show that girls in skirts are
more likely to get taken. But I have to for work!
I will, just please stop worrying.
See you soon, bye!"
Angel heads for her car in the parking lot, but someone is watching her. While she is unlocking the door, the bad man sneaks up behind her while holding a dirty rag or bedsheet.
He pulls it over her mouth and ties it behind her head while he pins her against the car.
She doesn't have time to react, and before she knows it, she can only make mmmphing sounds. Camera angle – Some close ups of legs and skirt. And closer on Angel's face while she gets gagged.
He then pulls her hands behind her back and ties them with duct tape.
He moves onto her feet, but she kicks him and starts running, still gagged and hands tied behind her.
He chases and catches her, wrestling her to the ground. He then tapes her feet and knees together. She should resist.
Then tapes around her chest as she struggles fearfully, her clothes getting a little dirty.
He picks her up and throws her over his shoulder and carries her slowly to the car. We get nice views of her in this vulnerable position. He throws her in the trunk and drives away.
We see her in the trunk struggling fearfully and mmmphing through her gag for a few minutes.
Format: mp4
Resolution: 1920 x 1080
Duratio: 00:15:50
Size: 1558 Mb