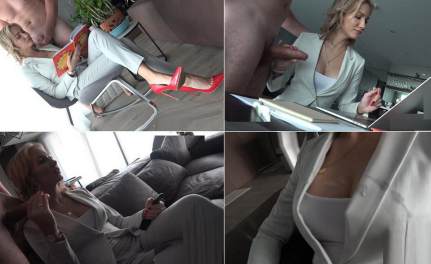 When you come to Angel, your cock is already became like stone and you so much wish that she would pay attention to you, so that she would touch your big swollen cock with her hand and fingers.
Or maybe she would caress your cock with her tongue. Angel is sitting on a chair in her office pantsuit, she is reading a book. She is so beautiful and you are excited looking at her. You undressed and stood so close, you smell her powdery perfume and see her cleavage, it looks so hot.
You want to touch her, her boobs, so beautiful and voluptuous. You begin to play with yourself with the hope that she will turn her attention to you. She ignored you and only once looked at your huge cock. Oh, how you crave her attention. You decided not to distract her and took her hand and put it on your mighty cock. She decided to help you, but not distracted from her affairs.
You are very excited, your cock got spasms and … Without warning, she simply touched your cock with her tongue and … Your cock starts to spray pearly white sperm on her cleavage…
Format: mp4
Resolution: 1920 x 1080
Duratio: 00:12:38
Size: 1231 Mb