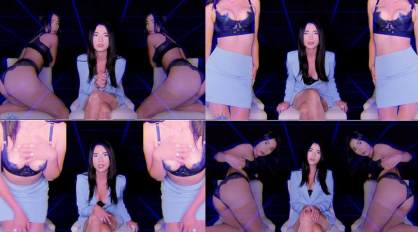 tags: addiction, addiction training, asian goddess, asian princess, femdom therapy fantasy, masturbation encouragement, masturbation humiliation, mesmerize, mind fuck, princess miki, sex therapy fantasy, therapist fantasy, therapy fantasy
You have always been afraid of seeing a therap ist, due to the nature of the issues you wish to discuss: porn and masturbation addiction. You keep putting it off because it's embarrassing to talk about this with a real person, even if the person is a licensed professional.
You know that your addiction has gotten out of hand: it's taken over your life, so you desperately seek out an alternative to talk therap y. Interestingly, thanks to your online search history, you are invited via email to participate in a special research project.
This project is an app that mimics a therap y session, and it is specifically designed for people afflicted by sex-related addictions who are too embarrassed to go to therap y.
You are very curious, even though you are skeptical as to whether artificial intelligence can actually help you in a way a real person could. Talking to an AI bot is far easier than talking to a person, though…
You agree, and you are given a link to download this "virtual therap y" app. As instructed, you get in a comfy position, and you open it…
You're shocked and worried to see that this AI "therap ist" who calls herself "Dr. Miki" is actually in the form of an incredibly attractive woman — she makes your cock throb, she's obviously a trigger.
She explains to you that she was specifically designed to look like a trigger or stressor, and this is to assess how you react to such things. You begin to imagine her undressing… your mind can't help but wander.
She mocks you for this. She knows what you're thinking… she knows how your mind operates. She knows how weak you are for beautiful women and how you immediately get consumed by dirty thoughts against your own will.
Format: mp4
Resolution: 1920 x 1080
Duration: 00:13:07
Size: 961 Mb