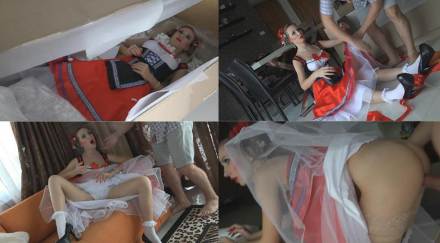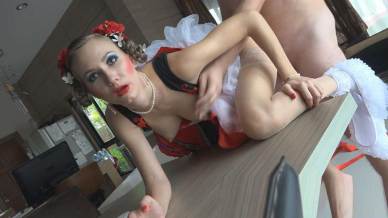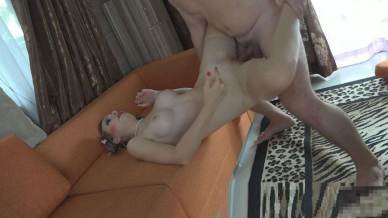 This will be a doll/mannequin video in the same manner of those already in your store. At the start it will be the "delivery" of the doll- I don't know if you can easily get a cardboard box or some packing material of some description, but some form of "unpacking" would be great at the start. Your partner unpacks you, stands you up, start to pose you (including using the turntable). At first the poses are quite innocent, moving your arms, sitting you down, standing you on the turntable etc Then he has you standing but leaning forward, and make you hold your skirt up/out behind you so that your underwear is visible.
He then stands you upright and adjusts the top of your dress so that your boobs are visible, and makes you hold/squeeze them while he turns you on the turntable. He then moves you around, posing you in dirty ways and fucking your mouth until you end up on the sofa, where he removes your knickers (if we could remove them gradually that would be great; slide them down them to your knees, pose/fuck you a bit, then remove them completely) and begins to fuck you. A few different poses etc while he fucks you until he is ready to cum, then he removes your dress and puts you on the sofa and cums in your mouth and on your face (possible to get an extra large fake cumshot so you are totally plastered?)
He puts your knickers back on and stand you on the turntable, spinning you round slowly as cum drips from your face. He replaces the dress, poses/turns you a little, then pulls the top down so your tits are out, leans you forward with your dress/skirt held up, and slides your knickers down your thighs a little so your ass/pussy are not covered; we end the film with a few shots of you covered in cum, completely used and exposed.
Now the outfit:
I prefer dresses that are more like the German style (below) because they are lower-cut on the front. We would not need to use the apron. Also important is the petticoat and underwear. Underwear… no bra, only knickers. Something white or pink, as ruffled/frilly as possible. Lace, mesh, or silk/satin material. I have also seen "doll style" false eyelashes if you can find something similar local to you. Any black high heeled shoes will be ok, I noticed some in "First Training my Secretary". Here is a shot of the hairstyle. It does not need to be exact copy, but if you can do the coiled plaits and then accessorise with flowers/ribbons or something to make it look doll-like that would be great 🙂
That's the kind of doll I want to model it on; aside from the red cheeks however I would still like quite bold/bright makeup, but in a regular "human" style. Also I don't know if I mentioned makeup…. you obviously have the lashes, but can it be quite bold/bright, nothing too elaborate but very red lips, pink/red cheeks, lots of eyeliner and a suitable eyeshadow… half human, half Doll. I don't want the "circles" on the cheeks (like the photos I sent) but do want the cheeks to be quite red/pink. If you have a bright colour (blue maybe?) for eyeshadow then that would be good too.
Tags: high heeled shoes, doll hairstyle, bold/bright makeup, cum in mouth
Format: mp4
Resolution: 1920 x 1080
Duratio: 00:32:11
Size: 763 Mb