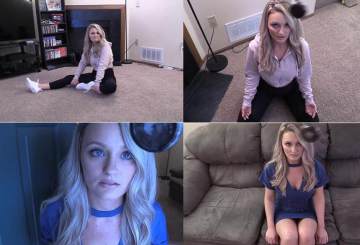 Maria is a hot personal trainer at the local fitness club. She's hired by a customer to do an in-home session with him. She shows up at his apartment to find he's wearing jeans and a t-shirt, and seems to have little interest in actually working out. As she is about to leave, Maria is shown a pocket watch and her eyes become locked on it. It swings back and forth, and Maria falls under his hypnotic control. She is now his hypnotized slave and completely at his mercy.
Hypnotized with a pocket watch.
Stares off in a trance as she repeats back her commands through the induction.
Answers "yes master" when given a command.
Made to sleepwalk through the room while repeating her mantra.
Falls to her knees and focuses on the watch as it swings back and forth. Repeats the phrases her master gives her.
Put into a hypnotic sleep on the floor.
Woken up out of trance briefly. Tries to escape, but is put back into trance as she reaches the door.
Forced to remove her jacket and stares blankly ahead.
Made to clean her master's home, while remaining in a trance.
Wakes up wearing a new outfit, and seemingly alone. Tries to escape, but opens the front door to find him waiting for her on the other side.
Put back under hypnosis with a pocket watch.
Stands entranced while repeating her programming.
Sleepwalks through the room repeating her new mantra.
Focuses on the pocket watch and taken deeper into trance. (close-ups of eyes)
Stands posed as a sleepwalker and repeats her mantras.
Left in a deep, hypnotic sleep, unable to come out of trance until her master releases her.
No nudity.
Format: mp4
Resolution: 1280 x 720
Duratio: 00:15:58
Size: 246 Mb