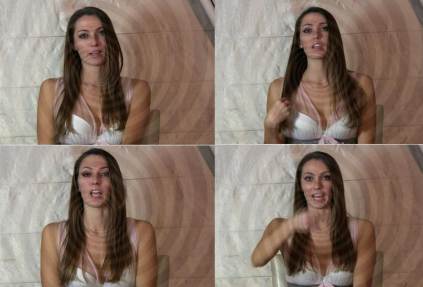 Look into my eyes. I know how important it is for you to jerk, jerk, jerk. That's all that you really want to do. It's ok, you can do it. Over and over and over again. This trance I'm going to put you in will allow you endlessly stroke for hours and hours. A lost, mindless jerk zombie. So focus on my voice and on your cock and just start jerking to my words, as you start to get lost. And soon you won't be able to ever stop stroking. My mesmerizing words will take over your thoughts as you I mindwash you to keep jerking and jerking and jerking.
Keep jerking off my little jerkoff zombie. Jerking and jerking, over and over again. You can't stop. You'll never be able to stop. A mindless stroke slut for me. You love this feeling. Give in to your jerk addiction. Keep focusing on my eyes and my words as you edge until your brain becomes a pile of mush. And as you do this, I'm going to bring you down into an even deeper state of trance. Fall deeper and deeper as jerk and jerk and jerk.
I have you under my spell now. A spell where you'll never stop jerking. I'm going to make it impossible for you to stop with my voice, pulling on the strings of your weak mind. You can't stop can you? And as you stroke, I want you to repeat this to yourself, 'I can't stop stroking my cock.' I'm in control of your cock and your mind. Sink into it and feel that tingling sensation take over you body.
You're sitting there drooling and mindlessly stroking. A mindless puppet for me. Focus, breathe, relax and stroke. You love being here with me, stroking it for me. I don't want you to cum. I just want you to put this clip on loop and edge for me. Watch this clip over and over again and continuously jerkoff for me, all day and all night. You won't even realize how much time has gone by. Jerk, jerk, jerk. That's all. It's so easy. You're addicted to stroking. Fall deeper and deeper down.
Bring yourself to the edge, then pull back, and start edging again, continuously jerking off forever and ever. Just jerk and stare at me. There's no escape, you can't get away, and why would you want to get away when this feels so good. You can't move, lost in my trance. And you don't want to cum because if you cum then you'd stop stroking and you don't want to stop stroking. This will never end….
Format: mp4
Resolution: 720 x 406
Duration: 00:09:47
Size: 313 Mb