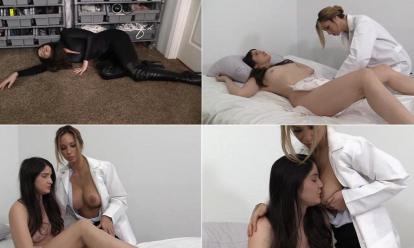 Arielle Lane is a spy that breaks into a research lab to steal secrets for the black market. She wasn't expecting Lucy Purr, a scientist, to catch her and laughs when she says that Arielle won't leave the laboratory the same way she came in. Using knockout gas, Arielle coughs and stumbles in her over the knee boots until she passes out.
When she awakens, she's in a spread eagle and struggles to escape. Lucy wants to test an age regression formula on her and she's the perfect specimen because nobody will miss a dirty spy.
Feeding the formula one spoonful at a time, the spy swallows it but thinks Lucy's crazy until she starts talking like a little girl. Lucy says that more food will make her feel better and even younger. Arielle doesn't want to regress and squirms. She tries to fight her way free, but stops writhing after having a pee accident. Since she can't control herself, she will need to wear a diaper but won't need the restraints because she's helpless.
Lucy strips her catsuit because she doesn't need clothes anymore, and Arielle cries because she can't stop her. Arielle sucks on a pacifier while changed into a nappie. Begging for release, Lucy denies her because she wants to feed her more formula so she forgets everything. After swallowing, she transforms completely and cries for her mommy.
This is exactly what Lucy wanted and rocks Arielle in her arms as her mind becomes blank. Once her memory fades, Lucy is motherly and does one more experiment. Stripping her shirt and bra she exposes her breast to the hungry tot. Reluctantly, Arielle latches on and nurses as Lucy explains that she's her new mother.
Tomorrow she will get a patent and can raise Arielle like a real Mommy. If she lets her grow up!
Format: mp4
Resolution: 1280 x 720
Duratio: 00:15:09
Size: 573 Mb