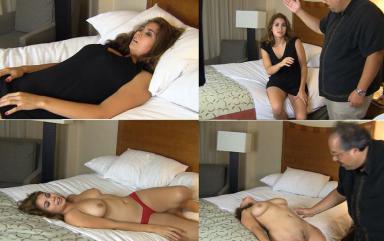 Mind sucked
Mai Ly is now convinced that my camera lens is quite magical, and as she stares into it it captivates her gaze to the point she can not look away, and the more she stares into it – the more it starts to suck her mind out of her.. and leaving her as a mindless naked body, left for me to do with as I please.
In this second part, we have Mai Ly's mind completely sucked out, and she is a empty body left for me to play with. Watch and enjoy as she is moved, posed, and repositioned in various different ways.
In this last clip, Mai Ly's mind is still sucked away – but then I decide to reverse the process, and return her mind to her body… But before I do that, I decide to play around a bit more with her while she is mindless 🙂
BLANKed into Robot
Now we have trained Mai Ly to go completely BLANK when I say the word BLANK, and at that point she's an empty slate for me to program how I wish… at which point I inform her that she is indeed a robot build by man. I then go through and inform her of her functions, and different buttons around her body that perform different things.
In this second part of the Mai Ly Robot tutorial, we demonstrate what she can do, and how she is made… and how life like she is.
Robot Masturbate
We have now converted Mai Ly to a robot, and as such we now experiment and try to figure out what we can make her do as a robot. I figure we'd make her into a sex robot, and have her start masturbating. Watch and enjoy as she has no choice but to do what I ask of her, and program robot Mai Ly to masturbate!
In this last clip of Mai Ly, as a robot; she is to masturbate with a dildo, watch and enjoy as she gets off over and over uncontrollably. A few malfunctions here and there, but all good.
Format: mp4
Resolution: 1280 x 720
Duratio: 01:14:43
Size: 831 Mb