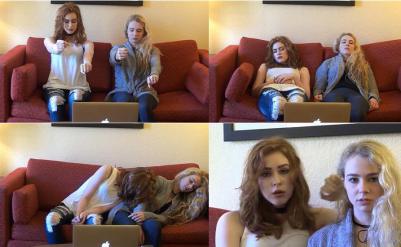 Made to think she is a playful, little puppy.
Taken through obedience training. Made to see a neon sign in her mind, flashing the word "obey". She repeats the word "obey" as the sign flashes, until she is mindless and ready to serve.
While in a mindless trance, Slyyy is commanded to: strip fully nude, bring her master a drink, present her chest and chant mantras, pose for her master, crawl on all fours, lay face down with her ass up in the air, dance while being groped, walk like a zombie and chant mantras, and dance on the floor.
Groped and felt up in a mindless, pleasurable state.
Posed as a sex doll.
Made to give her master a lap dance while feeling aroused. Frozen and unfrozen multiple times while dancing.
Reacting to the "good girl" trigger, Slyyy feels intense pleasure and begins rubbing herself.
Slyyy is asked questions about the experience throughout the entire session, both while she is in trance and out.
Triggers removed and brought out of hypnosis.
Format: mp4
Resolution: 1920 x 1080
Duratio: 01:12:20
Size: 1258 Mb