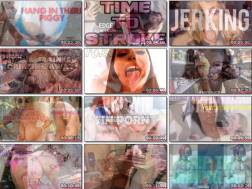 This is a porn addiction mindwashing clip. Mindwashing is the concept that the human mind can be altered or controlled by certain psychological techniques. Mindwashing is said to reduce its subject's ability to think critically or independently, to allow the introduction of new, unwanted thoughts and ideas into the subject's mind. The target's identity is broken down to the point it doesn't work any more. It is then replaced with another set of behaviors. This is accomplished through heavy repetition. The audio file in this clip, contains just that, heavy, echoing repetition of mantras that will become embedded deep into the listener's mind. (Headphones are highly recommended.)
Surrender to porn and experience the total annihilation of reality. You can't control it. It feels too good to stop. Your entire life revolves around porn. Your transformation is almost complete. You're almost ready to be a brain de ad gooner. We must first drain out all information other than porn. Focus on filth. Forget about your job. Forget about your friends. You only need porn. You only need to consume an ever increasing amount of porn. Isolate yourself away from society and spend more time with porn.
Repeat after me, 'I am a mindless stroke slave who is addicted to porn, filth and chronic masturbation.' 'Being a mindless porn addicted stroke slave is the ultimate pleasure.' 'I don't need a brain, I just need porn.' 'I have become stupid from stroking.' 'I love being retarded for porn.' 'I love being addicted to porn.' 'I will do anything for porn.' 'Porn is my life, porn is everything.'
You belong to porn now, she is consuming you. This beautiful addiction is irreversible. There is no escape. There is no cure. You have been mindwashed and reprogrammed to be a slave to porn. Being a mindless porn addicted stroke slave is the greatest feeling ever. The never ending euphoria from constant stroking to porn is amazing. Welcome to the total destruction and annihilation of reality.
Format: mp4
Resolution: 1280 x 720
Duration: 00:15:49
Size: 1.14 Gb