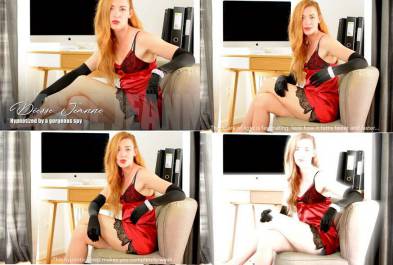 French speaking with English subtitles!
If Captain Flam has rocked your childhood, you'll love this video inspired by a hypno scene from this mythical anime…
Your guard at the office of the scientist Elaine is not going go as planned… You have surprised a spy trying to steal confidential data. You lock the doors of the office, your superior will decide the spy's fate once she'll be back… In the meantime you must monitor her closely. This mysterious spy will put your mind to the test, she will play with your mind. She's so beautiful it's difficult to resist… She wears such a precious bracelet on her long satin gloves, you can't help it, you trigger its hypnotic power… Let yourself be carried away in this deep hypnotic sleep lulled by the supernatural light from the spy's bracelet… She's going to turn you into her spy slave!
Format: mp4
Resolution: 1920 x 1080
Duration: 00:15:53
Size: 247 Mb