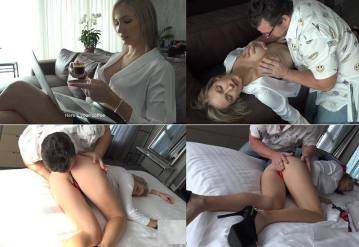 yle is an AirBnb owner, he's the typical nerdy guy who doesn't get much attention of attractive women. His houseguests tend to be very ordinary people who come and go quite frequently.
One Friday he receives a reservation request from a woman called Angel, he's received women in his house before but none of them has caught his attention. Her profile on the AirBnB app doesn't have a photo. He accepts to accommodate her because he needs the money.
It's Saturday in the afternoon, Lyle is reading a newspaper on the living room when the door rings. Quite unwillingly he gets up to open the door. When he does it, he receives the surprise of a lifetime, an amazingly sexy and voluptuous woman is at the door. His jaw drops to the floor as he scans all her body with his eyes. Angel looks at him with estranged eyes and breaks the ice.
Tags: custom clip, mini skirt, limp beautiful woman, angel the dreamgirl, leather leggings, lift & carry, high heels, tit play, naked legs, limp play, pink nails
Format: avi
Resolution: 1920 x 1080
Duratio: 00:27:30
Size: 2151 Mb