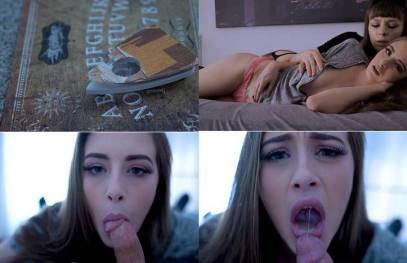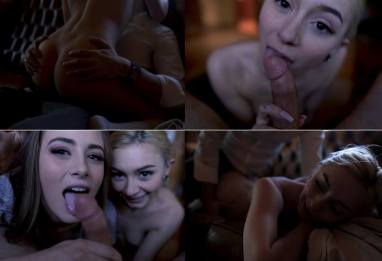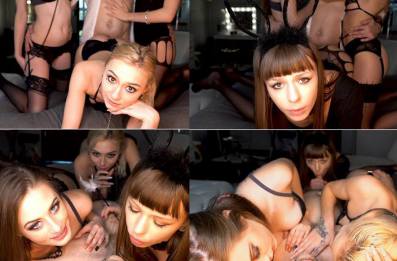 Chloe Temple is spending the night at Kyler Quinn's house when the girls decide to play with an Ouija board. When a "spirit" it spells out "help" Kyler gets too scared to continue. Later that night while the girls sleep the sheets get pulled off them, revealing their sexy young bodies. Chloe tosses and turns dreaming of a beautiful women kissing up her body, when she opens her eyes laying on top of her is a Succubus (Alex Blake) who kisses and takes over her body.
Chloe sneaks down stairs to find Kyler's stepdad in his study. She seduces him asking him if he's ever dreamt of this, having a sexy young girl seduce him while his wife is in bed upstairs? She offers to be his little fucktoy, his innocent little girl, anything he wants as she pushes him onto the sofa.
PART 2 – Chloe Temple and Kyler Quinn accidentally summoned a Succubus (Alex Blake) when playing with an Ouija board. Possessed by the demon Chloe sneaks downstairs and finds Kyler's stepdad alone. She seduces him, teasing him with her tight little body as she begs to pleasure him. She slips off her panties and mounts him on the sofa, grinding against him as she whispers in his ear. He can use her whenever he wants, she's his completely. She just wants to make him feel good, to make him cum over and over again. She tells him this is ALL just a dream and that he should just let himself go. He's unable to resist and flips her over taking her from behind (simulated sex) she promises to be quiet. She promises that his wife won't wake up.
PART 3 – It's the morning after Chloe Temple and Kyler Quinn summoned a Succubus (Alex Blake) with an Ouija board. Kyler's stepdad had some crazy sex dream last night only to find his stepdaughter, Chloe and a mysterious woman standing in his broom doorway wearing sexy lingerie. "Daddy can I stay home form school?" Kyler asks biting her lip. "And you should stay home from work, we have a friend we want you to meet" Chloe adds. "Hey daddy" moans the mystery woman as the three of them strut towards him as he backs away. "It's ok daddy, I made sure mommy left for work already" — The three of them surround him, trading him off as they each kiss him. They promise to be good girls and one by one get on their hands and knees for him to fuck them from behind while the other two continue to kiss and caress him.
Tags: Alex Blake, Chloe Temple, Kyler Quinn, demon , cum in mouth , seduction , dreamlike , stepdad , stepdaughter , daughter's friend , double blowjob , whispering , dirty talk , submissive dirty talk
Format: mp4
Resolution: 1920 x 1080
Duration: 00:52:18
Size: 4585 Mb