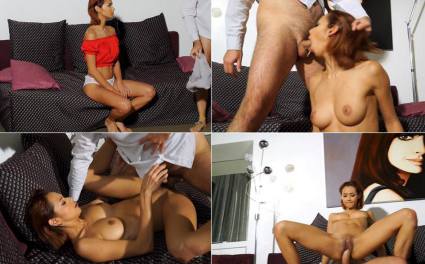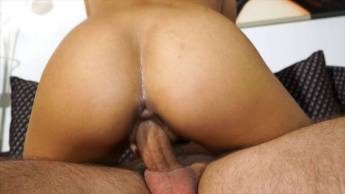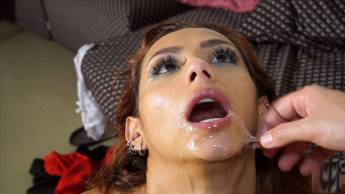 Andy and Veronica exchanges messages for several months through Tinder. They are finally meeting for a dinner at Veronica's house.?The day is finally arrived. Andy comes to Veronica, with roses in his hands. When Veronica opens the door, she immediately has a bad surprise: Andy is't the man she was texting with. She loves very very tall men, shaved face and body. Andy cheating on her using some photos from the net maybe. Anyway, Veronica is so cute and polite, she doesn't want to banish Andy from her house. She invites him to enter and she offers him some wine, but she doesn't take the dinner from the kitchen.
After an initial moment of embarrassment, Veronica starts to talk with Andy. She is very serious: "Listen Andy… you are not the same man of the picture. I'm not stupid. Why did you try to cheat on me?".
Strangely Andy is very calm. He is charming a little bit. He removes his glasses and he says: "I think you shouldn't judge a book by his cover. I'm the same you talked with by message. I think you should look deep in my eyes and you will find out your love for me…".
Now Veronica is astonished and she doesn't know what to say. She smile and looks little more relaxed. As to play with him, she looks in his eyes laughing. But… she's gonna stop laughing very soon. She is now frozen, not for the embarrassment. She seems a robot. Andy mesmerised her. She is in his power. He changes his attitude now, becoming rude. He says: "now I'm the man of your dreams and you're craving to fuck me !!". He orders her to get on knees and suck his balls. Then he brutalises her, fucking her on sofa and on floor in doggy style. He cums first time all over her back, when she is like a beast, all four on the floor. The man is fucking her so hard that the dickhead is visible in going up and down Veronica's belly. Veronica squirts and then asks for more. She wants to feel it all the way down, fucking her inside her body till her brain.
When he has enough of this, he takes her face and starts to fuck her throat deep and rough. He uses her skull like a hole, pushing is dick with an incredible strength and quickness. She vomits and gets sick, but he doesn't care at all. He blocked her head against the wall and keeps fucking deep and rough, while Veronica has got her full body covered in vomit. She so out of mind that she touches again her cunt, with vomit covering all over the pussy. finally he forces his dick all the way down and makes her feels all her throat filled in sperm; then she spits and he covers her face in sperm.
Tags:, cim, mouth abuse, reverse cowgirl, upside down, doggystyle, missionary,Hypno,Hypnosis,Hypnotized,Mind Contol,Mesmerize,Trance,Brainwashed
Format: mp4
Resolution: 1920 x 1080
Duration: 00:25:06
Size: 1448 Mb