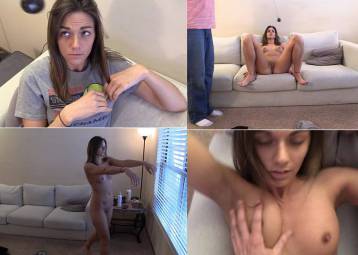 This is not a fantasy, story-based video. The hypnosis in this video is real. This is Freya's fifth time being hypnotized. The entire session was captured from two separate camera angles. The editing has been kept to a minimum to allow the viewer to experience the session from beginning to end.
This is Freya's fifth time being hypnotized. She is working again with our hypnotist, RHLOVER. The entire session was conducted online through the webcam, with Freya being hypnotized by a spiral and guided into trance by the hypnotist's voice. I, of course, was in the room with her, filming and interacting as needed. She is taken deeper and deeper throughout the induction until she has reached a point in which the hypnotist feels she will respond well to his suggestions. After the 20 minute induction, we move into playing with post hypnotic triggers and eventually blank and mindless obedience. A full list of all suggestions used, and full details about the shoot, can be found directly below this text.
After the session, all hypnotic triggers are removed, and Freya is brought out of hypnosis, ready to talk about the session, but remembering almost nothing.
Freya is a really good subject, and seems to get better each time she is hypnotized. Her reactions are fun, especially the "bad girl" and "love potion" responses, and the fact that Freya remembers very little about her sessions is a good indication of how deep she goes.
Format: mp4
Resolution: 1920 x 1080
Duratio: 00:05:52
Size: 307 Mb