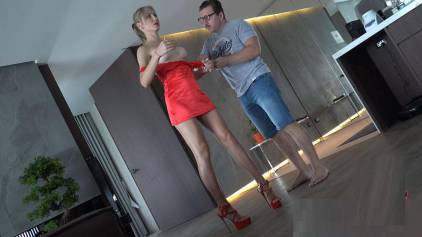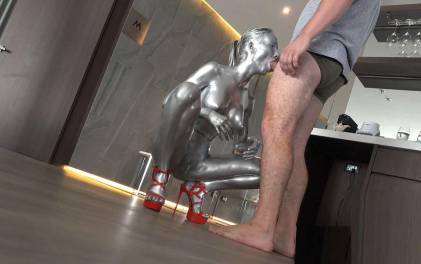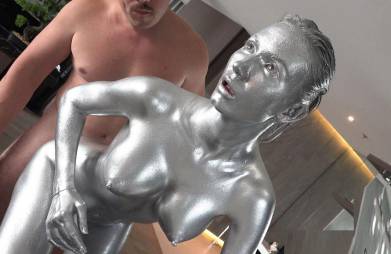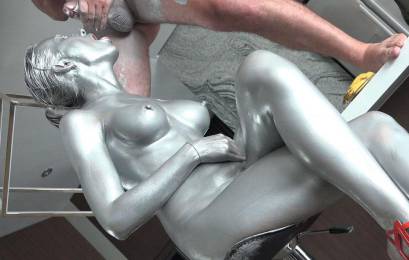 The clip start with your man that comes home late. He dont wanna wake you 'cause he thinks that you're going to be angry. You play the roule of a strong personality wife and he is the submitted man. Unfortunatly you are waiting him on the sofa, wearing only a nightdress and the red high heels from the previous clip. You start asking him why he is so late, yelling at him. He say that he have a gift for you, a magic lamp that can grant three wish.
That object doesn't as to be a lamp, it can be anything. You dont belive him, saing that he's a liar and that are all excuses. Make him feel miserable. At some point he has enought and decide to use the "lamp" himself. He grant the first wish and you magicali frozen in time. Make sure to freeze in a position so that youre man can easly undress you without make you move. Finally there is peace.
He turn around you watching your frozen body thinking about all the year of trubble and how he is so fed up beeing trait like sh.. t. He undress you (that should not be a problem if you wear only the nightdress). Let the heels on. he thinks that you look realy good as a design object but you could look even better if you where silver (body painting again i know, forgive me). He grant the second wish and you turn into a silver statue. The camera makes some shot at your body like when you was just frozen.
He is happy about the resoults and realize that he have an erection like never before. He tries to move you but no way, you are solid stiff. He than grant the final wish and a magic controller apeard. He can now controll you. He plays with that control and you are now able to move, your movment remains a little stiff. You give him a blow job and then he fucks you in several position.
In the end he cums on your face. The clip ends with your man that came home the day after. Walks in the room and we see you standing like an object of design like for examples a clothes hangers or on your knees like a coffee table, still a silver statue ready to be used when your man want to.
Tags: Transformation Fetish,custom clip , silver paint , pov , magic control , high heels , special effects , silver body , cowgirl sex
Format: mp4
Resolution: 3840 x 2160
Duration: 00:17:25
Size: 1.21 Gb