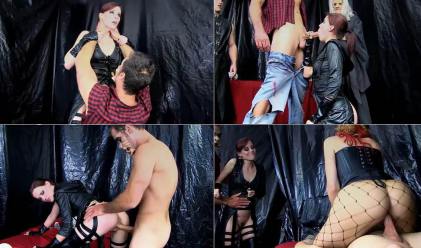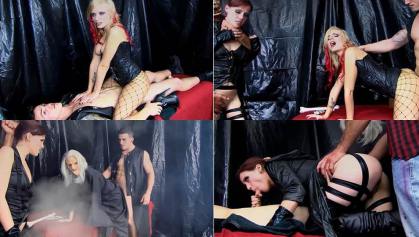 Hansel & Gretel are on a mission to locate and destroy a very evil witch and her perverse ogre minion. They follow a trail of candy and cautiously enter witch's abode.
Gretel- Be careful Hansel, this witch is very dangerous.
They bump, check their weapons and then enter the witch's liar. After looking around and finding bones and discarded clothing they are ambushed by the witches helper, Ogre. Ogre quickly knocks out Hansel with a blow from behind. Gretel engages Ogre in a brief fight but she quickly loses her weapon and succumbs to Ogre's body blows before being choked .
Scene Two:
When H&G awake they are weaponless and are confronted by the hideous witch and her ogre minion.
Witch- Hello my pretties, I knew you would be coming. Your just in time for dinner! Cackles loudly. Don't try and leave before the feast. You are under a spell that prevents you from leaving my liar. I have removed your weapons and my handsome pet Ogre will you slowly and eat you if you don't do as your told.
H&G make a bolt for the door but both receive a painful shock from the witches spell and fall to the ground. Ogre then drags them back to the witch.
Witch- You two brats have been very naughty and won't get any candy until you finish your chores.H&G are then made to perform tedious chores while the hideous witch torments and laughs at their foolish attempt to track her down and destroy her. As H&G sweep the floor and do chores the witch scolds them.
Witch- You worthless brats. You aren't even good servants let alone witch-hunters. Your going to clean every inch of my filthy kitchen and get the preparations for tonight's feast ready.
With this, she cackles loudly and Ogre LICKS his lips.
Witch- This Ogre is my personal butcher and he just loves young fresh meat. I can tell he is really going to like you two.
H&G perform chores reluctantly but remain defiant during the witch's incessant taunting. After a few minutes, the witch feels that H&G are not working to her satisfaction.
Witch- You brats lack discipline and humility. I'm going to teach you lazy brats a lesson in respect that your deadbeat parents obviously failed to do. And if you don't obey me exactly, I will have Ogre rip you both to shreds where you stand and dinner will be served early and without a proper cooking.
Format: mp4
Resolution: 1280 x 720
Duration: 00:26:30
Size: 1392 Mb