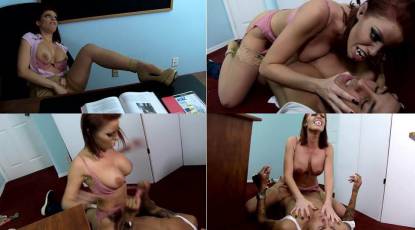 Miss Amber is stuck working late at the school because some young pervert was getting to third base in the girls' locker room. Now she has to stay and keep him in detention. She was supposed to have a hot date with her husband and even took an aphrodisiac her husband gave her called after dark.
When she sends the pervert out of the room to get his books so he can stay busy doing school work, she calls her husband to tell him she has to work late. He tries to tell her she HAS to have sex after taking the after dark but Britney thinks he is making it up and gets off of the phone.
She has been SO horny all day, and as the sun sets, it gets unbearable. What is she supposed to do? Fuck the student? He might be the school stud, but still, he is just too young and– Why did she even think about it?
Britney needs to cum and cant stop her urges, but as she pleasures herself, things begin to happen, to change
When the student comes back, he is in for the surprise of his life…
Format: mp4
Resolution: 1920 x 1080
Duration: 00:16:31
Size: 728 Mb