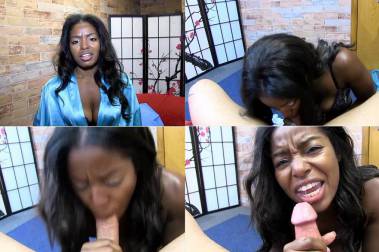 Jade is home winding down after work when she hears a knock at the door. She answers it to find that it is her BF Robbie's obnoxious best friend accusing her of cheating on her BF. After being shown a photo on his phone as proof, Jade invites him in.
After hearing just how amazing Jade's blowjobs are he decides that he won't send Robbie the photo in trade for one of these blowjobs. Jade protests but changes her mind when he starts to send the photo to Robbie.
Once she has reluctantly stripped and shown off her body, she gets on her knees, tells him "I fucking hate you," and lazily begins blowing him. After a few moments, he asks her if that's the best she can do and, annoyed, she stops and tells him that she is going to give him the best blowjob of his life so he will never forget it.
She gives him his amazing blowjob with her signature slow deepthroat until he's ready to pop. But he wants to cum in her mouth. He tells her to open up so he can see it shoot in and once he's cum in her mouth she pulls back and tells him "I fucking hate you," again.
He tells her to swallow it and, with a look of disgust, she does. She checks again that he won't tell Robbie about the photo and when he tells her that he actually just recorded the whole blowjob, she is pissed and makes sure to tell him, one more time, "I FUCKING HATE YOU".
Format: mp4
Resolution: 1280 x 720
Duratio: 00:12:12
Size: 75 Mb