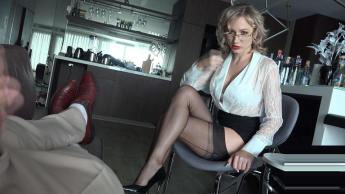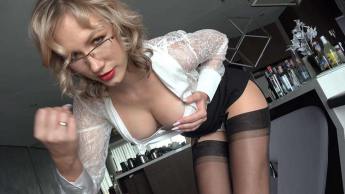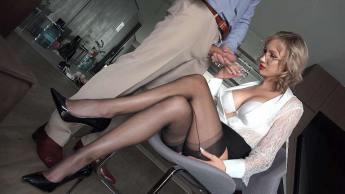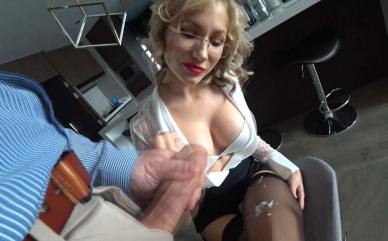 Insatiable For Your High Heeled Nylon Legs
I have a fetish of woman legs in nylon stockings and high heels. This is my first clip order to you. I like your sexy legs in high heels and black FF stockings. Therefore, my clip will mainly be about this, and I also like your pretty face and your cleavage. You are especially beautiful when you wear office clothes.
Let's talk about my script, this is my draft script, I'm not a professional on this, but I think you will like my script and you will shoot the clip.
You are therapist who helps men cope with their distractions, control their orgasms and help increase the duration of sex.
You wear your black pencil skirt, white top that can show your cleavage, black FF stockings, garter and black shoes, throughout the clip you wear your brown-framed glasses as from the 519 For Your Naughty Thoughts clip. Your hair is curly loose, your lips are painted crimson red, your makeup is shiny and sassy (photo attached), suddenly you can't do the same, I can send other photos.
The clip begins when you sit on a chair and fill out my visit history. I watch your movements, especially your nylon legs that cross from side to side. You already know what is happening to me and you know how to therapy it. You get up and walk along the room and talk with me about my treatment (to the camera), a man lies on a couch, sofa or sits in an armchair, the camera is always POV.
Then you decide to therapy me and for this you lift up your skirt and show your legs in FF stockings and high heels. I did not expect to see this, but my cock is already hard, because I have a fetish of nylon legs and your legs are so divinely beautiful.
You tell me to take out my cock and start slowly jerking myself. At this time, you will tease me with your high-heeled nylon legs, you will tease me with your cleavage. You also do lots of "Jerk-Off" Motions with your hands. You can show your lovely ass several times, I like it too.
You tease me and give me instructions on how to jerk off, after a while I am ready to finish, but you control this and you forbid me to finish, you tell me – Still not enough, I want to feel the fullness in your shaft.
You do "Jerk-Off" Motions with your hands and brazenly tease me with your high-heeled nylon legs. You know that I am ready to finish, but you do not give me permission, because you want me to put a big load on your stockings. You can look directly at the camera and smile, you can encourage me by telling me, "great job, good boy," "keep on jerking off."
You control when and where I finish, so you decide to give me a countdown, when it is up to you.
Format: mp4
Resolution: 3840 x 2160
Duration: 00:16:00
Size: 2.25 Gb