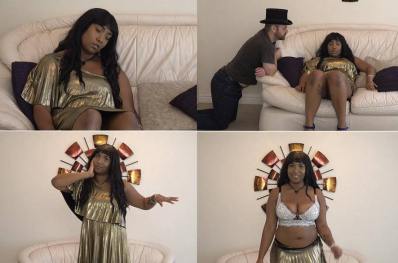 Introducing Denali, a curvy cutie with an absolutely giant submissive streak! She even rocked up with her own padlocked collar!
Within 3 minutes of starting the induction, her eyelids are noticeably flickering, and a couple of minutes later it's evident that she can't recall being anything but an obedient doll. Mmf!
Super responsive throughout, and she's one of those fantastic subbies who whilst frozen doesn't always need to blink, leading to one of those great moments where a tear travels down her cheek as she gazes mindlessly into space. (Which is kinda the holy grail for me in these shoots.)
Steamy, sexy, chatty smart and cute as hell when she spaces out.
This one's very much a Director's Choice
CONTENTS
00:10 Introduction and discussions of her subbie lifestyle
05:45 Induction
20:40 Feeling Slutty
23:45 Five Finger Countdown
25:30 Amnesia: We haven't started yet… Have we!?
28:15 Bound to the Sofa
30:00 Tickle Control
33:50 Name Bound
35:45 Brainless Ornament
39:45 Triggered Slut Poses
41:00 Puppet on a String
43:30 Bimbo Switch
48:22 "Slut" the Bimbo
55:50 Shyness / Sluttiness Switcheroo
59:25 Stuck Derping (Ahegao)
Format: mp4
Resolution: 1920 x 1080
Duration: 01:00:00
Size: 1640 Mb