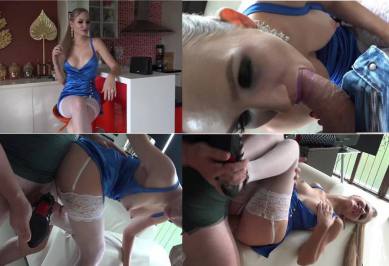 Champagne for The Glamorous Actress
Kate is now staggering and stumbling in the room, always laughing loud and hiccuping. Totally ..nk she needs to rely regularly on the furnitures or the wall.
After her walking in the room (a long time please) then he takes her by the waist and support her to walk because she is too ..nk to walk correctly to a sofa.
He puts her on it and show her his cock and orders her to give him first a blowjob.
He gives her first a large sip of champagne.
Kate begins a blowjob, always laughing and hiccuping. She is so …nk that she has slow and unskilful movments and has diffulties to do it.
She must stop it a first time because she has a strong crisis of laughter with regular hiccups.
Before to put again his cock in her mouth, the puts again the bottle in her mouth. Then she continues again her work.
A second strong crisis of laughter with regular hiccups. Helped by the producer she starts again her work.
Then he firt rubs her cock against her right feet in shoes and also between her feet end shoe (a good while please). Then he penetrates her in the missionary position. Kate is constantly hiccuping and laughing in her ….ken and crazy state.
Finally he ejaculates on her nyloned toes in shoes.
At the end one can see Kate spawled on the sofa hiccuping and laughing wit a lot of sperm on her feet in shoes.
As you did perfectly in your precedent drinking clip it's important to always being giggling and hiccuping. As your …nness your laughing must becoming crazier and noisier. It will be the same for the blowjob scene(crazy laughing, strong hiccups with some close-ups on your beautiful giggling and hiccuping face).
It's is important to have sometimes close-ups on your feet and five colored toes in high heels sandals.
Format: mp4
Resolution: 1920 x 1080
Duration: 00:34:40
Size: 1150 Mb