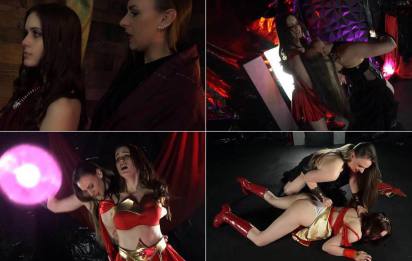 The battles between gentle-hearted Kiki (Mckenzie) and cruel seductress Isabel (Ariana Rogue) are legendary. Both members of a secretive order of women warriors, they fight to gain power and one day inherit the mantle of "Lady Athena", the avatar of a goddess' might.
After the storied conclusion of a tournament that saw Kiki the champion, Isabel has been plotting her revenge for years and finally strikes to steal back the power of Lady Athena for herself. Join us in this action-packed, dramatic film that will decide the fate of one of the world's greatest powers in a Luciafilms custom that is not to be missed!
An extensive animated still prologue.
-Multiple Transformation Sequences.
-Multiple Costumes.
-Countless Panty Shots.
-Intense Rivalry and Drama!
-Physical and Magical Combat.
-Face Punching.
-Breast Punching.
-Forced Orgasms.
-Femdomme.
-Submission.
-Blackmail.
-Magical Girl Waifus.
-Slapping.
-Stretching.
-Crushing/Squeezing.
-Brief Kissing.
-Asphyxiation.
-Global Humiliation.
-Costume Destruction.
-Light Hair Pulling.
-Ruthless Wedgies.
-Pinning.
-Molestation.
-Brief Electrocution.
-Low Blows.
-Light Nudity.
-TPE.
Format: mp4
Resolution: 1920 x 1080
Duration: 00:33:15
Size: 1264 Mb