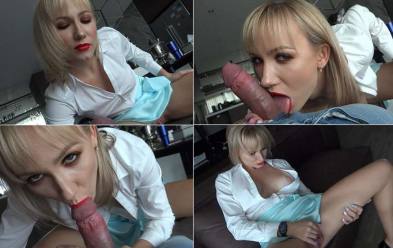 The Therapist: Inside Her Mouth
Angel in her office, she is a professional sex therapist. Today she wears a white blouse, her nipples are slightly visible through the translucent blouse, she also wears a blue skirt, this one also has translucent material, but she does not wear panties under the skirt.
She sits down on a chair, crosses her legs, reads the news of the day, her smooth, shiny legs in high heels are so beautiful. She don't wears stockings or tights.
Her heavy makeup makes her pretty face stand out, her red lips are gorgeous.
After a while, the patient arrives, he enters to her office and sits on the sofa, the therapy session begins. Angel walks around the office seductively, and then sits in a chair in front of the patient.
"I already understand what the problem is, and therefore I have personal therapy for you, this will help you gain new strength and a good erection. I promise you will feel better."
Angel gets up and lifts her skirt all the way up, then she puts her right foot in heels on the crotch of the patient, she begins to rub the crotch of the patient with her heeled legs.
She sees that the cock begins to react and becomes hard.
Angel sits down on a chair and begins to unfasten his pants, she takes out his nice cock and starts playing with it. Her skirt is lifted up so the patient can watch her pussy.
Angel spreads her legs wide, at this time she caresses the cock up the shaft up and down with her tongue, she begins to make a sensual blowjob. Then, after a while, she starts the game with a pee hole, she licks it, presses it with her tongue, teases with her finger and fingernail, sometimes she bites his cock, she drools on the cock and tries to drool into the pee hole, then she sucks the appeared precum.
Format: mp4
Resolution: 1920 x 1080
Duratio: 00:30:49
Size: 857 Mb