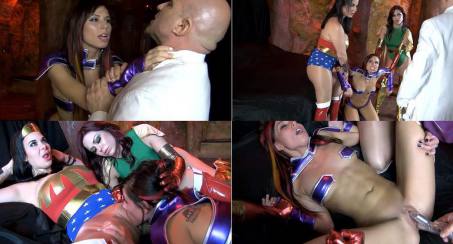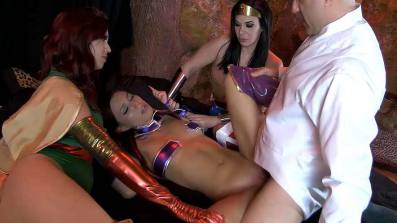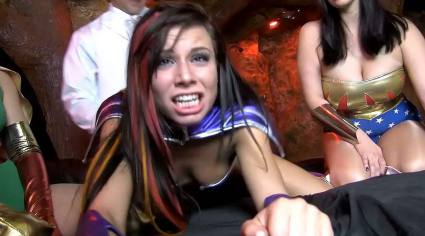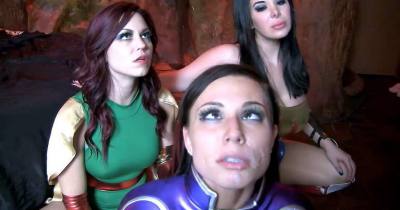 Starfire has been looking for her missing step-daughter Nightstar. She knows her step-daughter likes to spend time with Nightwing so she goes to the Bat Cave. Instead of her step-daughter, Nightwing or even the Bat himself Starfire finds herself confronted by Lex Luthor.
The evil genius brags abut making Nightstar a slave, and then tries to use his mind-control device on Starfire, but her mind is to strong and alien for it to work. Starfire is about to take Luthor when he calls on the mighty Maxima to defeat Starfire. Maxima is under Luthor's control and is stronger than Starfire.
It is a great contest of power, and Starfire manages to get the upper hand through sheer force of will, but, Luthor has another ace up his sleeve. Wonder Woman grabs Starfire by the throat and this time Starfire doesn't win
Maxima and Wonder Woman force Starfire to serve their masters cock on her knees and Starfire is too weak to resist to her total disgrace.
When Starfire is finished, with Luthors load dripping from her mouth, Wonder Woman and Maxima take turns having their way with her. Starfire is too weak to fight them off and the mind-controlled superheroines force her to cum with their mouths and make her pleasure them.
Now LL returns, he has a special device to force Starfire to cum and drain her will over and over. She can't escape but resists as best she can. LL device is too powerful and she is taken by orgasm after orgasm
Starfire is falling to LL mind-control device and he uses her as a sex-slave while WW and Maxima tell her to submit to master Luthor. The hard fucking and mind-control device are finally more than Starfire can resist and she falls
Format: mp4
Resolution: 1280 x 720
Duratio: 00:45:10
Size: 1025 Mb