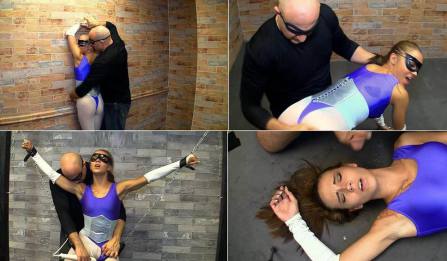 Sasha Swift (Sasha Foxxx) tracks a burglar to an empty warehouse. She thinks she has the thug by surprise but he laughs
"Couldn't you tell this was a trap you stupid little bitch?"
Sasha Swift isn't phased, she tells him she'll turn the tables on him, But he continues to mock her, he tells her that he has taken all of American Avengers strength, speed and agility.
Cyphon beats SS down although she refuses to give up and lands some impressive kicks. She gets groped and beaten and e takes terrible injuries before finally being spanked and taken down in a sleeper hold
SS wakes in a Cyphon's lair. He lets his hands have his way with her despite her defiance, He forces her to kiss him to her disgust and Finally he tells her he is going to make her cum until she begs for more. If she doesn't he will let her go, and give her back the Power Siphon, but if he breaks her, then he will take her powers too, and keep her around to use for fun
Sasha refuses to be broken at first but he makes her cum and she tries to resist again but soon she is cumming uncontrollably and opening her mouth to accept his tongue as he grabs her hair and makes her moan with hard kissing
Sasha Swift has been broken and now she must pay, she yells in defiance as he approaches her with the Power Siphon, she kicks and struggles but soon she feels the excruciating pain of her powers and even her life and soul being torn from her. She screams out in agony and her whole body shakes and convulses until the Power Siphon is full.
Cyphon wants her to know her new place so he finishes unmasking her as she lay senseless on the floor and jerking off until her face is covered in cum
"Now you look beautiful" he tells her.
Format: mp4
Resolution: 1280 x 720
Duratio: 00:23:01
Size: 549 Mb