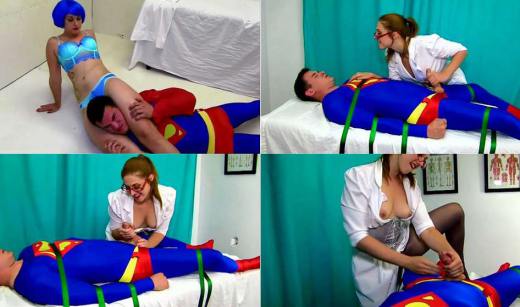 Superman is investigating the experiments of a scientist known as "Geek Girl" As he breaks into the lab, he comes face to face with a female android, dressed in bra and panties. The Android activates and attacks Superman. Superman tries to fight back, but the Android is as strong as he is. The Android eventually grabs Superman in a bear hug, squeezing tightly as Superman grows weak. He falls to the ground and the Android continues her attack, using her powerful legs to scissor the man of steel. She is merciless with him as he grows weaker and weaker from the battle, Finally, she sits his face and smothers him. As he struggles, she plays with his cock. She bounces her ass on Superman's face hard and grinds until he finally .
Superman wakes up bound to a lab table. The Geek Girl comes in wearing glasses and a lab coat. She laughs, explaining her android is powered by Kryptonite and he never had a chance against her. Now that he is her prisoner, she can start her ultimate experiment, an army of Supermen at her command. For this, she need to milk him of his super sperm.
She starts stroking his cock, telling him more about her plan to take over the world. And how powerless he will be to stop her. She will milk him of his cum, and then to make sure no one else duplicate her work, she will castrate him. She shows him the device he she will use as she continues to stroke his hard dick.
She opens her coat and exposes her tits to entice him and she continues urging him to his final orgasm. She laughs, knowing he is trying not to cum but he cannot resist her beauty and her skilled hands. She give his cock a playful kiss and continues stroking.
She continues to laugh about her evil plans. Once she has milked the man of steel dry, and taken his balls, she will let him go, but his balls will be hers forever. She will make them into earrings. Every time he sees her, as she rules the world, he will be reminded how it was his balls that lead to her ultimate victory. He will see his balls dangling from her ears. She laughs and tells him how she loves a man that gives her jewelry.
He is getting close to cumming. He victory is almost complete. She is overjoyed that in mere seconds, she will have all she needs to take over the world, and have Superman's balls as her prize. She gives Superman's cock a few licks to get a taste of her victory. She takes his cock deep into her mouth and sucks it gentle until it is on the verge of cumming.
She then strokes his cock until he cums, She laughs as she collects the sperm to make her army. Then, she smiles as she takes out the tool she will use to remove his testicles. She puts it between his legs and tells his to say good bye to his balls. As we fade to black we hear a loud snip and her maniacal laugh….
Format: wmv
Resolution: 1280 x 720
Duration: 00:17:31
Size: 633 Mb