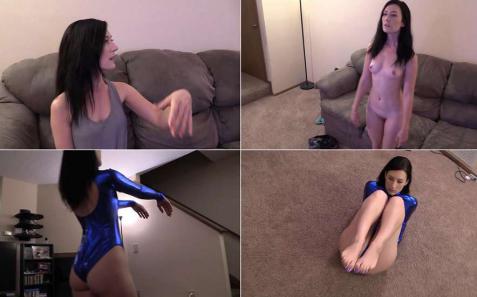 Jennifer's sugar daddy wants to have a closer relationship with her, and without paying for her time. Jennifer quickly puts him in his place, but Sugar Daddy has other plans for her. He turns her attention to the TV set where pulsing circles catch her attention. At first Jennifer is confused, but soon all of her thoughts are sucked into the circles. Her face goes blank and she enters a state of deep hypnosis. Jennifer's mind is open and receptive to all of his commands. He makes Jennifer strip nude, sit on the couch, spread her legs and stare deeper into the circles. Her mind is reprogrammed to believe she is an obedient robot. She has no free will of her own and must please her master sexually. Jennifer changes into her sexy blue bodysuit and waits obediently for her master's next instructions.
Jennifer is hypnotized by pulsing circles on the TV set.
She goes into a deep trance and repeats back her programming in a monotone voice and with a blank face.
Answers "yes master" when obeying commands.
Made to believe that she is now a robot.
Made to change into a blue bodysuit.
Stands on display as her master looks her over in her new outfit.
Walks through the room and recites random pieces of her programming.
Must lay on the ground and pose her legs in various provocative positions while repeating her sexual programming.
Removes her service uniform when instructed to do so.
Virtual simulated scene – camera on bottom (no real sex, no male nudity).
Full nude.
Format: mp4
Resolution: 1920 x 1080
Duratio: 00:19:29
Size: 741 Mb