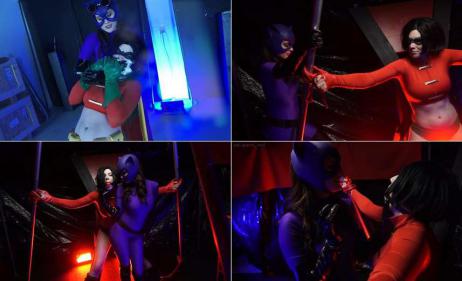 When Robyn (Xiphos), the plucky sidekick of the famed hero Bats gets an alert to a museum break-in, she considers it a routine bit of crime fighting. Unfortunately for her, Ladycat (Mckenzie) is on the prowl and she quickly falls into a well planned trap to separate her from her caped crusader.
At the mercy of the feline themed deviant, Robyn is subjected to a slow, humiliating series of psychological and sexual tortures meant to break down her ability to resist. Will Robyn be able to hold onto her sanity and dignity?
Get ready for a hot battle of wills between two of our fiercest actresses!
This film includes:
-Femdomme.
-Brief fight scene.
-Chloro Scene.
-Playful banter.
-Humiliation.
-Puns.
-LOTS of bondage.
-Forced Orgasms.
-Forced Molestation/Groping.
-Demasking.
Format: mp4
Resolution: 1920 x 1080
Duratio: 00:37:05
Size: 1362 Mb